Discover the Heart and Soul of Sandestin
Located along the shores of the Choctawhatchee Bay in Northwest Florida, The Village of Baytowne Wharf features an array of boutiques, eateries, galleries and nightlife -- not to mention a jam-packed schedule of outdoor festivals and special events for the entire family. This spectacular setting, all within the gates of Sandestin Golf and Beach Resort, is the perfect spot to spend a vibrant afternoon, evening, week, vacation, or you can be one of the lucky few who frequently experiences Baytowne Wharf through home ownership.
Featured Events
Hydroflight Monday
Monday, May 17th - Monday, August 2nd
Time:
6:30pm & 8:30pm
Cost:
FREE
Enjoy shows from fly-board extraordinaire Ben Merrell over the lagoon! Watch as he soars to the sky and makes waves at Baytowne Wharf.
Boomin' Tuesday
Tuesday, May 18th - Tuesday, August 3rd
Time:
7:15pm-9:15pm
Cost:
FREE
Turn your eyes on the sky and watch as we light up the night with a breathtaking fireworks show over the Lagoon at 9:15pm.
PLUS now enjoy a DJ Dance Party with DJ Mike Whitty in the Events Plaza at 7:15PM!
Magical Thursday
Thursday, May 20th - Thursday, August 5th
Time:
7-9pm
Cost:
Free
Join us for magic, music, and mayhem! Watch as our featured pirate Captain Davy takes you on an adventure with two magic shows on stage! 7:00pm & 8:00pm Show Times!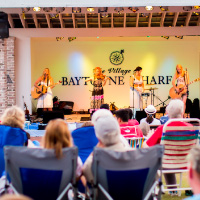 Wednesday Night Concert Series
Wednesday, June 2nd - Wednesday, June 30th
Time:
7-9pm
Cost:
FREE
This summer sit back and relax, as you take in the cool crisp air, and enjoy live entertainment. The concert series will feature both local and regional talent from a variety of genres. Concert begins at 7pm on the Events Plaza Stage.
Live Music Schedule:
June 9:
Biscuit Miller and The Mix
June 16:
Will Thompson Band
June 30:
Dion Jones & The Neon Tears
[
More About The Bands
]
Sunday Cinema
Sunday, June 6th - Sunday, June 27th
Time:
8:00pm
Cost:
FREE
Grab a lawn chair or blanket and cozy up on the Events Plaza Lawn for a featured film.
Movie Listings:
June 6 | Maleficent
June 13 | Croods A New Age
CANCELLED DUE TO WEATHER
June 20 | Secret Life of Pets 2
June 27 | Moana
Red, White & Baytowne
Sunday, July 4th
Time:
7pm-9:15pm
Cost:
FREE
Join us this 4th of July for our spectacular Red, White, and Baytowne celebration! Enjoy LIVE music from Donovan Keith on the Events Plaza Stage from 7pm-9:15pm, followed by a fireworks display that will light up the night sky at 9:15pm. The Village of Baytowne Wharf will also host kids activities including kids crafts, face painting, and balloon sculpting.
Perfect Hues: Baytowne Art & Food Fest
Friday, September 3rd - Sunday, September 5th
Time:
5-10pm Nightly
Cost:
FREE
This Labor Day Weekend Join us for Perfect Hues: Baytowne Art & Food Fest. Each evening from 5pm-10pm stroll The Village streets as you browse a variety of artwork from local and regional artists, and savor bites from some of the area's best restaurants and food trucks. Enjoy LIVE music throughout the festival and a spectacular fireworks show over the lagoon on Sunday at 9:30pm. We love kicking off the fall season with such a unique, moonlit weekend!
Music Line up:
Friday
5-7:15pm: Casey Kearney
7:30-10pm: Jared Herzog
Saturday
5-7:15pm: Mike Whitty
7:30-10pm: Ken & Andi Johnson
Sunday
5-7:15pm: Chris Alvarado
7:30-10pm: Jarred McConnell
[
Apply Here
]